Power management

Logitech claims that this mouse should get around a year off of two AA batteries.  That is a pretty big number, one that my Microsoft Explorer has certainly never ventured near.  But is it for real?  Ask me in another 11 months, so far so good though.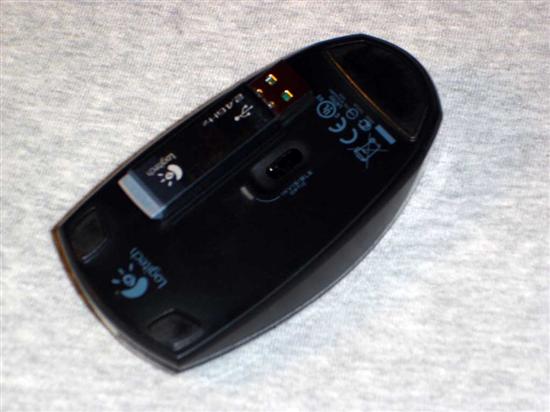 V200 with USB receiver in tow

One problem with most Bluetooth mice is that they never really turn off.  This leads to a fast battery drain when being tossed around in a bag.   Logitech solves this by turning the mouse completely off whenever the receiver is snapped into place on the mouse, simple but effective (assuming the receiver stays put).


Ergonomics, Construction & Style

The V200 is marketed as an affordable mouse and this shows through.  It is defiantly not as pretty, well made, or comfortable as it's more expensive cousin the V500.  That being said, it is still a solid little mouse.

My main ergonomic complaint about the mouse goes like this: the V200 is relatively tall and narrow, causing folks with big mitts like me to cup their hand in an unnatural position.  Some users, partially those with smaller hands, might find this quite comfortable, but for me it does cause a little discomfort during long sessions.

This little mouse is quite well built, performing very well on my traditional torsional rigidity test (grab each end with a hand a try and twist, listen for squeaks and cracks).   It also has a good mass to it, thanks to the two AA batteries.

But does it look cool?  I hear you.  Sadly, the answer is no, not really.  It is, at best, unassuming.  It is simple and clean, but it lacks any real visual flair.    For that, once again, Logitech requests you cough up a bit more cash for the V500.

Performance

While it is not marketed as an ultra-crazy high resolution mouse for gaming, I have been using it for a few weeks now and it certainly has fulfilled my needs.  It is a smooth, accurate tool, a vast improvement over the built-in pointing devices on laptops. 

As far as surface compatibility goes, the V200 seems about on par with standard red-LED based optical mice.  Unlike the latest generation of laser-based mice, you can find surfaces which will mess this little guy up without too much effort.  I managed to find two surfaces in my daily travels that fit this bill, polished slate and a high-gloss white table.  It worked ok on the slate, just a little stubborn.  The white table though killed it, not cool but not a surprise either.  The other fifty or so places I've tried it?  Worked like a charge.  Tables, desks, arms of chairs, jeans, ThinkPads, and even microfiber chairs all proved no challenge to the V200.