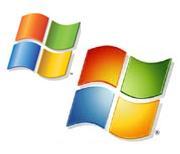 Windows Vista
Microsoft has promised the "largest upgrade since Windows 95" in Windows Vista.  In this article we take a look at build 5270, which will probably be one of the last intermediate releases (this one is actually labeled Beta 2 on the desktop) before the "feature complete" Beta 2 release.  In this article we will look at what this upgrade means in real terms by comparing it with the venerable Windows XP.
DISCLAIMER: Windows Vista Build 5270 is a Community Technology Preview, and will be subject to change (obviously) prior to final release.

If you are considering downloading and installing Vista, we would recommend waiting for Beta 2.  Although 5270 is fairly stable, it can be a bit rough around the edges.  Bugs abound and many programs refuse to install (Napster, for example) due to software version checks.
The Start Menu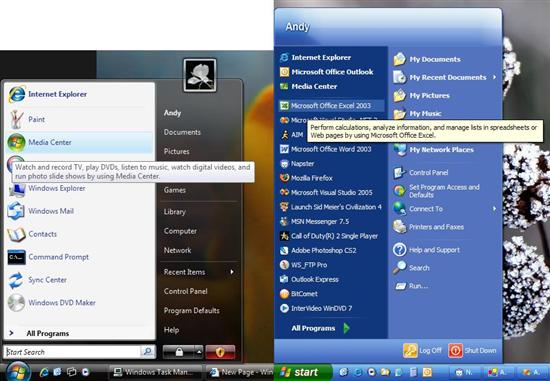 Start
The start menu has evolved in Vista.  At any time one can type search words, resulting in Search-As-You-Type functionality.  This search leverages the broader search functions built into Vista.  It functions in a very similar fashion to the MSN Desktop Search deskbar - but is integrated directly into the Start Menu.  It is actually quite useful, and newly created documents appear to get indexed almost immediately.  For example, after copying some Word documents into the Documents folder, they were available for search immediately.  Since the start menu can be activated with the start button, one can actually perform a search and select a search result, all without touching the mouse or opening any new windows.  Quite slick.  Pressing enter opens a full search results window.
Another change in the Vista start menu is the "All Programs," section.  In Windows XP the All Programs list can become very unwieldy when you have more than ten programs.  In Vista the programs list simply scrolls within the Start Menu like so: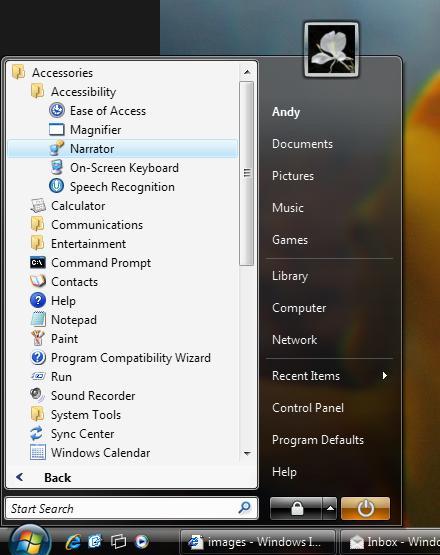 All Programs
Folders toggle open and closed with a single click.  When I first heard about this, it sounded like a horrible idea.  But after actually using it, I can say that it is actually a significant improvement over the dreaded 3-column-wide All Programs list from XP.  It is augmented by the fact that the search function is always available, meaning if you can't find a particular program - say Notepad - you can simply type 'Notepad' and all of the matching items, including start menu shortcuts, will appear.
The start button now also has a power button in it (seen bottom right) which by default installs any pending updates and then puts the computer in sleep mode (button presses wake it up).

 

Also available is a Lock button which performs the Lock function available in XP when pressing Ctrl-Alt-Del and the welcome screen disabled.

 

Other power-related functions are also available via a popup menu.