BETA Disclaimer

This is a comparison of two beta products; things are going to change before either organization suggests the general public try them out. Hopefully some of the problems/quirks will get worked out in the process.


Round 1: Tabbed Browsing

The one feature that got me hooked on Mozilla-then-Phoenix-then-Firebird-then-Firefox (they had some naming issues) was tabbed browsing. For the last few people who haven't already found out for themselves, tabs are a simple concept that help to keep life (or at least your web pages) organized. For the unfamiliar, tabs essentially let you open more than one webpage in a single browser window and flip back and forth between the various pages using tabs at the top of the browser. For anyone that has more than a few pages up at once this is a very handy feature.

On the topic of tabs, Microsoft has finally done the intelligent thing and copied the Mozilla/Firefox behavior and look (this has been a very effective strategy for Bill and compatriots over the years).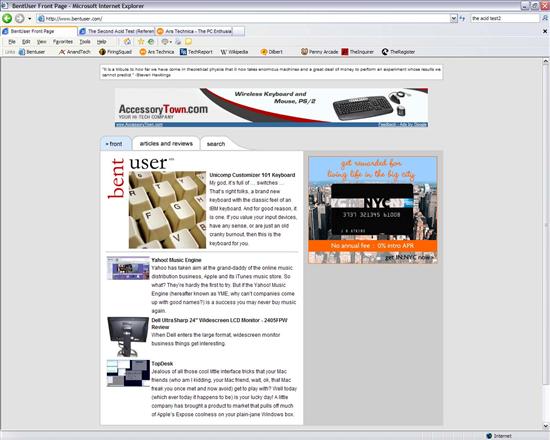 Internet Explorer with tabs? Si, and it isn't a hack! Snazzy site, no?

The new beta of Firefox adds a slick feature to its tabbed experience. You can now reorder tabs by dragging them around. IE7 doesn't support this, though they may very well by the time it hits release quality.


Round 2: Look & Feel

IE7 has gotten the more dramatic change in this department, but other than things being moved around it still isn't anything to write home about. The button icons are a little different and there is a new IE icon. If you are comfortable with how IE6 feels and works, then the final version of IE7 should make you feel right at home.



It still looks fine and feels great.