Office OneNote
Windows Journal covers the basics nicely, but Microsoft Office OneNote is a better all-in-one solution.  It is important to note that OneNote is not free, although it is bundled with many tablets.  Rather than having one file per note, OneNote – not too surprisingly – integrates all of these notes into a single Notebook along with some basic organization and search features.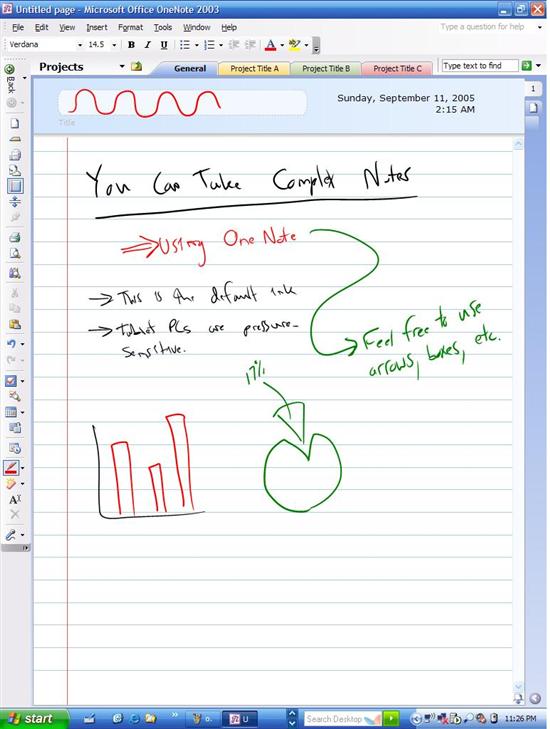 Entering Complex Notes in OneNote
OneNote also provides templates for basics such as meeting notes, todo lists, etc.  OneNote (as does Windows Journal) also supports pasting in pictures and text from other sources, such as Internet Explorer.  These snippets are also searchable.  A major problem with OneNote at the moment is that it does not have built-in support for boolean search expressions.  When you enter more than one word into the Find box, OneNote simply searches for that phrase.  To perform a true boolean search, you will have to use MSN Desktop Search (free) or another search program that supports .one files.  On a side note, a .one file is saved for each category (top-level tab) you create in your notebook.
OneNote also supports SharePoint and collaborative notes (which do not require SharePoint).  If you want to work on the same notebook at the same time as someone else, you can use the collaborative notes feature to collaborate in real time.


Office Support
Office 2003 added native support for Ink, and a free Microsoft Add-in is available for older versions to support Ink.  This allows you to do some interesting and powerful things – I have made a short list to give you some idea of what is possible:
Email someone a diagram
Mark up a document with ideas and suggested changes
Add Ink annotations to a document
Draw directly on a PowerPoint during a live presentation to better illustrate a point
When Office 2003 is installed on a Tablet PC, the Ink Annotations toolbar automatically becomes available:


Ink Annotations Toolbar