The Software
Now that we have taken a look at the hardware aspect of the tc1100, it is time to dive into the software – Windows XP Tablet PC Edition.  Unlike Media Center, Tablet PC Edition can join ActiveDirectory domains and has all of the enterprise-oriented features of Windows XP Professional.  In addition to all of the base XP Pro features, Tablet PC Edition adds the Tablet Input Panel (TIP) and Windows Journal, as well as all of the backend software to enable Inking.
There are two aspects to Inking on a Tablet PC: working natively in ink, and using ink and handwriting recognition to enter text into legacy applications.  Tablet PC is really best suited for the former task.  The latter is really more of a necessity, however, as most applications do not yet have built-in tablet support.  We will investigate both to understand the strengths and weaknesses of Tablet PC.
Windows Journal
Windows Journal, OneNote, and to a lesser extent Office 2003, natively support Ink, and are very successful in their employment of it.  Much as you would expect, as you write on the surface of the screen with the pen (the screen is sensitive only to the tip of the pen; not to your hands) Ink will appear onscreen, with a slight touch of curvilinear smoothing: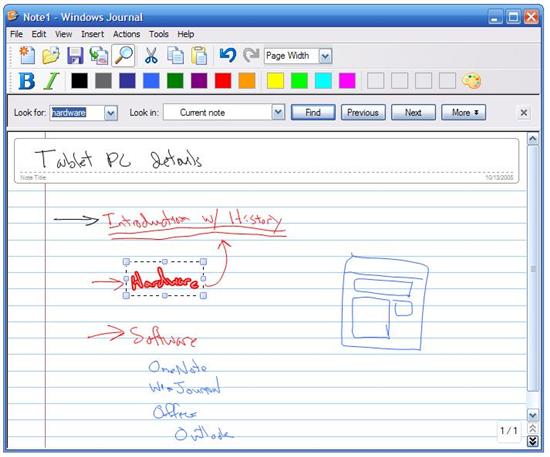 Search Your Notes
As you write, you can freely draw diagrams or text without having to switch between the two, as you would have to do with a keyboard.  In addition, every word you write is recognized.  Then all of the best recognition candidates for each word are attached to a particular pattern of ink as metadata.  This allows you to then search through all of your notes for keywords.  Since all of the best recognition candidates are stored – you will typically find exactly what you are looking for (see above) – even if you are like me, and have poor handwriting.
Ink in Tablet PC is stored in a type of vector format which allows for pretty complex (10 pages) notes/drawings/diagrams that stay well under 200K per file.  In addition, MSN Desktop Search supports searching Ink documents, adding to the convenience.