The Hardware (Continued)
The keyboard on the tc1100 is a bit cramped.  In addition, the keys are arranged in a non-standard layout (see picture above).  ThinkPad fans will be disappointed that HP uses half-size keys for the function and escape keys, while also rearranging the home/end cluster.  The arrow keys are in the normal configuration.  They keyboard is quite usable, however.
The pointing device, on the other hand, is not satisfactory.  Even when you maximize the sensitivity in Windows, its sensitivity is still quite low and when combined with the abrasive texture on its surface, can irritate the user's fingertip(s).  Anyone who does a significant amount of mousing with the tc1100 will want to get a Bluetooth mouse.
In terms of features, the tc1100 is well-loaded considering its 3.1 lbs tablet-only weight and 4.0 lbs with-keyboard weight.  Our test unit featured the following specifications:
Operating System

Windows XP Tablet PC Edition 2005

Processor

Intel Pentium M 1.10 Ghz (ultra-low voltage)

Memory

512 MB

Hard Disk

40 GB, 4200 RPM (5400 RPM available with SMART)

Screen

10.4", 1024x768 (XGA), 160-degree Viewing Angle

Video Adapter

NVIDIA Geforce4 420 Go with 32 MB

Communications

802.11a/b/g (Intel)
Bluetooth
56k Modem

10/100 Ethernet (Broadcom)

Optical Drive

None (External Available)

Warranty

3 Years
Overall, subjective performance of the notebook was acceptable but as with many notebooks, the 4200 RPM hard drive held the unit back.  Hard drive churning can really kill productivity, especially if you are a multi-tasker.  I would recommend an additional 512 MB RAM upgrade for the power user.  I also ran into a few sporadic problems with the WiFi driver; sometimes an "Excellent" strength connection would cut out; in general this was not a problem.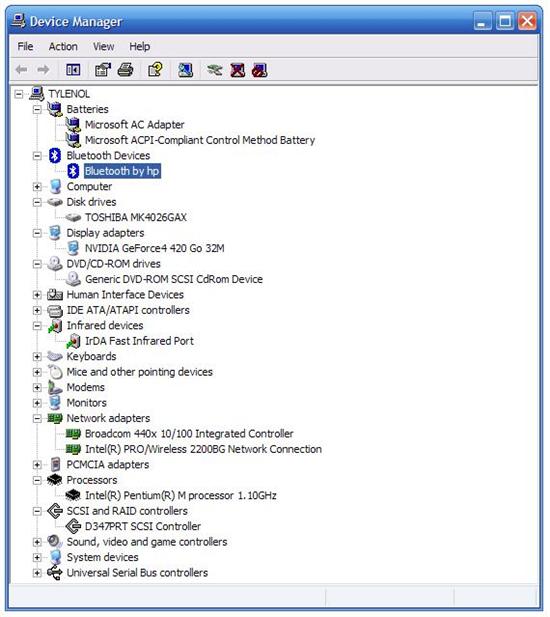 tc1100 Devices
Overall, the tc1100 is a very stylish notebook and its remarkable versatility will impress wherever you take it.  I was asked many times "What is that?" or "That is so cool!  Who makes it?" – particularly by women.  With WiFi turned on and average to heavy use, you can expect about 3.5 hours of battery life with the standard battery.  This is sufficient for the average user, but the truly busy will want to invest in a second battery to get them through 6-hours without a recharge.