Excel Mobile

Excel Mobile has received a number of updates and improvements.  It can handle more complex spreadsheets than its Pocket Excel 2003 predecessor and also sports a new chart feature.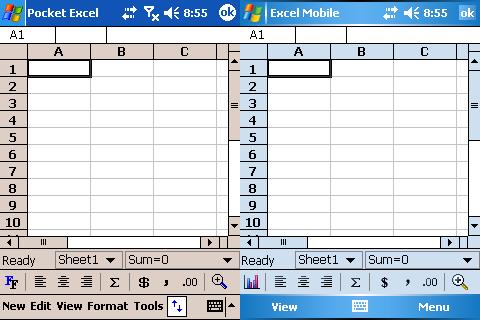 Excel Mobile 5
As you can see, Excel Mobile remains quite similar to its predecessor, sporting a somewhat cleaner interface.  The new chart feature is well-implemented and could come in handy:
As with Word Mobile, however, Excel also suffers from the formatting problem.  Sheets containing complex formatting can be viewed very nicely, but if you make changes and save you may see this dreaded dialog box: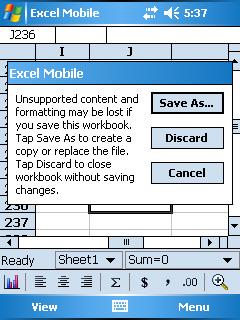 Excel Mobile Problems Problems saving complex desktop sheets is still a concern with Excel Mobile
Email and Contacts
Mobile Outlook's additions are mostly under-the-hood.  On the surface, Mobile Outlook closely resembles its predecessor: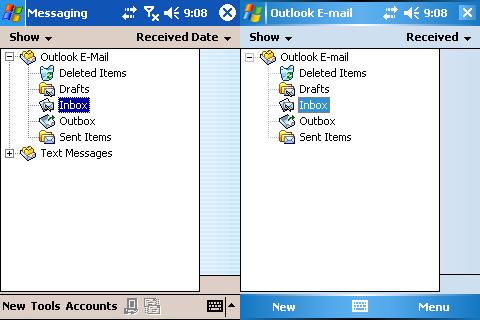 Outlook E-mail
Mobile Outlook has always been one of the Pocket PC's strengths, and the latest version builds on this solid foundation.  Incoming and outgoing attachments are supported and of course there is built-in spell check.  Mobile Outlook also supports sending and receiving email without the cradle, so if you want to send and receive email on the go, you should be covered.  In addition, because Windows Mobile supports VPN you can even VPN-into your workplace if necessary.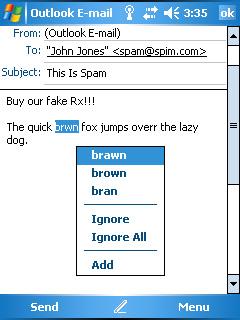 Spell Checking in New Email
Microsoft is planning to release an update for Exchange Server that adds in push email capabilities when combined with Windows Mobile.  The plan is to offer similar capabilities as Research in Motion's famous BlackBerry.
ActiveSync will also take care of your contacts, tasks, and other Outlook data as well.  And although Palm HotSync can synchronize email and contacts, it does not support Exchange – a major weakness in the palm platform.  Some Palm handheld makers, including Palm, ship their handhelds with a version of ActiveSync.  However, the upcoming push features will not be supported, making Windows Mobile and BlackBerry the strongest mobile email platforms.