Applications
A very important part of a Windows-based handheld, as with Windows itself, are of course the applications.  As this is a review of Windows Mobile 5.0 we will be sticking with the applications that Microsoft ships with the OS.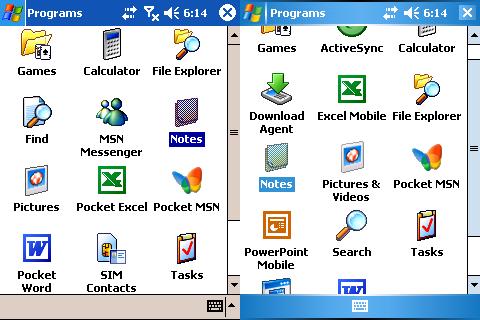 What's New?
As you can see, there are a several additions: PowerPoint Mobile and ActiveSync.  Then of course we have a few name changes, notably Pocket Word becomes Word Mobile, Find becomes Search, etc.
PowerPoint Mobile
PowerPoint Mobile is a much needed addition that allows you to view – but not edit – presentations.  So if you receive a presentation as an email attachment, no problem.  Now you can view it – complete with most of the animations you would get on the desktop version.
So as you can see from the screenshots, it is about what you would expect for a mobile presentation viewer.  This could be very useful for owners of 640x480 handhelds, as you could certainly give a compelling presentation with just your handheld.
Word Mobile
Word Mobile, for better or for worse, has not changed much.  As you can see in this side-by-side comparison, the toolbar has been improved a bit and all of the menu items have been integrated into a single menu: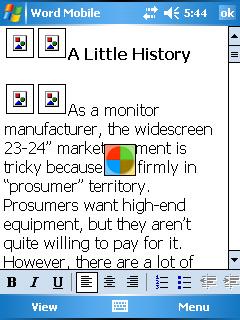 Word Mobile Document View
Unfortunately, Word Mobile still has a nasty tendency to strip out all formatting it does not understand.  This means that if you copy a document onto your handheld with complex formatting, edit it, and copy it back, said formatting will be gone.  Word Mobile also cannot seem to handle large documents well.  I attempted to open a 14 MB document with large pictures.  Although it thankfully loaded the file in a separate thread and allowed me to start working with it while it was still loading, it did eventually fail to load the entire document:
It makes a competent viewer, however, as you will probably not typically edit complex documents on the handheld anyway.