Media Center 2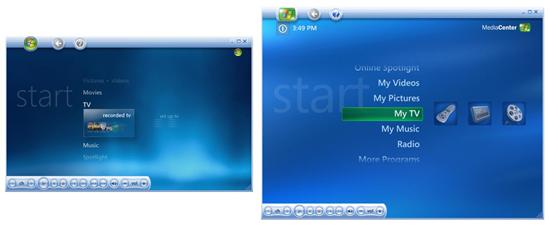 Media Center Side-by-Side


Media Center in Windows Vista has also received a significant upgrade – both under the hood and cosmetically.  Unfortunately, in build 5270 Media Center is extremely unstable – so unstable, in fact, that a separate patch was issued after 5270 was released just to get Media Center to open.
An interesting take on the My Music section is shown here:
This approach is certainly more aesthetically pleasing than in the original Media Center, although it can be a bit hard to locate a specific album if the cover is unclear.  We will revisit the update to Media Center in future previews, as it is really unusable at this stage.
Internet Explorer 7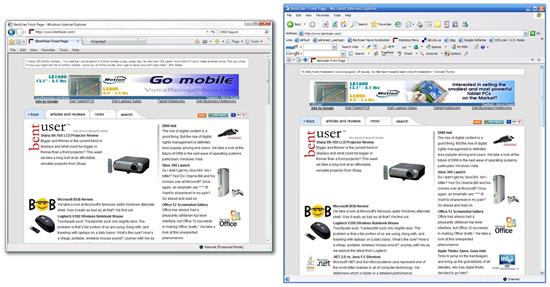 Internet Explorer 7
Internet Explorer 7 represents a radical departure in terms of layout from IE6.  The welcome addition of tabs is only part of the extensive overhaul IE has received.  The refresh button has been made part of the address bar (and due to various bugs, is almost never visible).  MSN Search and the capacity for other search engines are now built in by default.
The favorites pane now drops down momentarily and disappears after a selection is made (as opposed to remaining open, as it does now):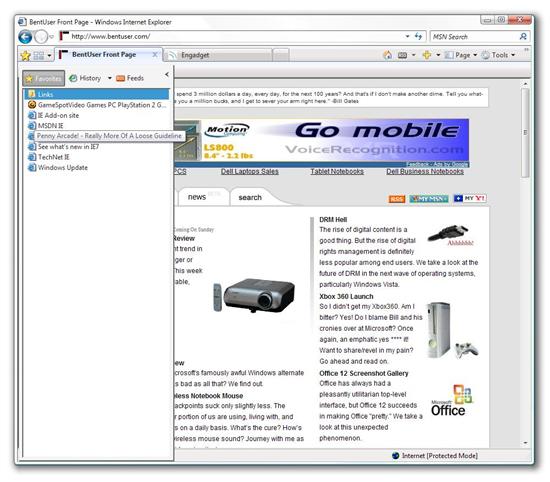 Favorites
Some other features, such as RSS have been added in.  It was announced that IE7 would adopt the Firefox RSS icon, but it does not seem to be present in this build.  Under the hood, IE7 has also received a number of significant changes.  For one thing, at least in this build, ActiveX controls – even digitally signed ones – are disabled by default.  In addition, scripting access to the clipboard appeared to be locked down – no doubt a privacy improvement, although one that will break some existing applications.  There appeared to be a variety of other compatibility issues.  For example, I was unable to log into the account management section of AmericanExpress.com.
These fixable issues aside, it appears that IE7 will give Firefox a run for its money.  This is, of course, assuming Microsoft comes up with a less schizophrenic interface layout.  Menus are disabled by default and when visible are placed directly above the webpage pane itself.
A feature that would be nice in IE7 or Firefox 2 would be the ability to drag tabs down to create a split view or perhaps one could even drag a tab out of the window to create a new window.  This is something you can do in the browser built into Visual Studio, and would be a very nice addition to mainstream browsers: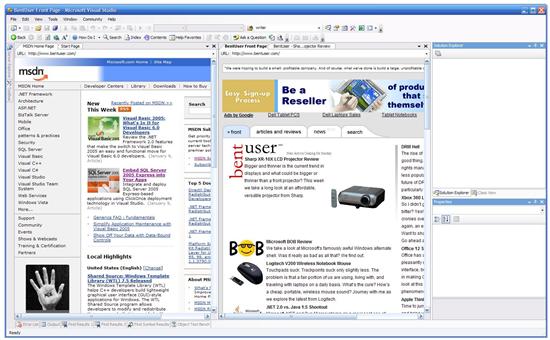 Draggable Tabs
Seems doable, given that it has already been done.